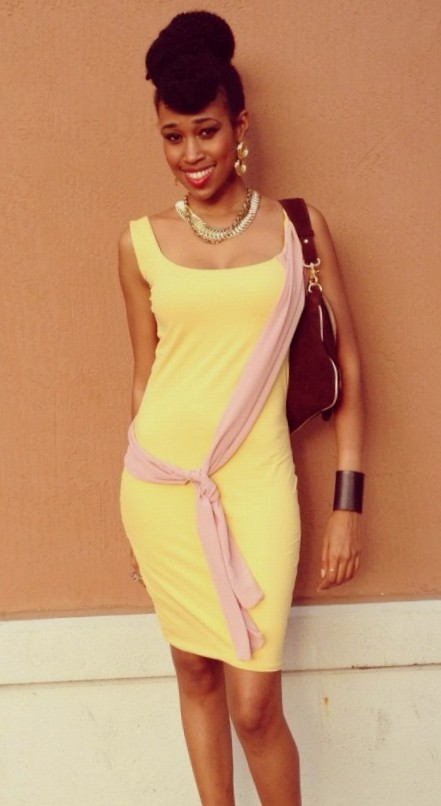 I spotted this Electric Blogarella Bella at Fashion Bloggers Do It Better. It was her whole package-ness that caught my eye. From the hair to the dress, this girl has a look. Turns out Ayesha is a designer with her own line called ASMI. She's as stylish as you'd expect a designer to be. Plus, her skin is flawless. Check out her tips for dressing, designing and getting that glow. And, on a personal note, thanks for making the connection to Skye Edwards for me. I was a huge Morcheeba fan.
Name: Ayesha Ibrahim
Claim to Fame: Fashion designer for the clothing line ASMI.
Wearing: ASMI
Sum up your style: Casual meets elegant meets a bit of funk.
Most treasured item in your closet: I would have to say my black blazer. First let me say I am a big fan of blazers, and I have them in a variety of colors. I believe they give any outfit  that finished, elegant look. But my black blazer saves my life each time. Many days when I'm rushing to an event if  I do not have the time to change or if I'm simply at a loss of what to wear, I throw on my black blazer over whatever I'm wearing, pair it would some bold heels and it does the trick each time.
Secret shopping go-to spot: I do not have one particular "go-to" spot, many days I look for new boutiques to find rare pieces, experiment with different designs and various designers. My secret or strategy is to be able to shop anywhere, find one-of-a-kind  pieces and mix them together in a cool, chic, but elegant manner.
Beauty tip: Drink plenty of water and have a fruit or vegetable salad per day, not only does it leave your skin spotless, it's healthy living.
When you were a kid you wanted to be: Growing up I think I aspired to someone or something different every year, and I always had big dreams. In fact, I still do. I remember maybe between the ages of 6 to 8 my idol was Whitney Houston, and I would dream of travelling around the world singing for millions. The next few years I believe I wanted to be an official linguist; then a nurse like my mom, soon after a veterinarian, and I think at some point even a governor. I look back on those days and smile, but now I've found my true love. I want to be the fashion designer that I am, continue to grow in my art and create magnificent designs.
Never leave home without your: Camera—you may never know when you see that snap shot of inspiration that would lead to an incredible design.
At the top of your fashion wish list is: I've never been one for creating fashion wish lists since my fabric, my sewing machine and my unique fashion finds keep me quite content, but I have recently been on the hunt for the perfect concealer and I am yet to find it so I would have to  say that is one of my necessities at the moment.
Currently addicted to: Youtube.
Last song you listened to: "Not Broken" by Skye Edwards.
For a direct link to this interview, please click HERE