August 14, 2012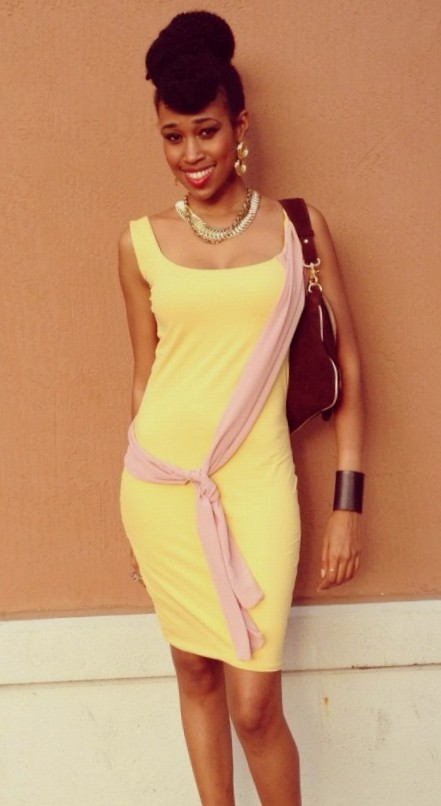 I spotted this Electric Blogarella Bella at Fashion Bloggers Do It Better. It was her whole package-ness that caught my eye. From the hair to the dress, this girl has a look. Turns out Ayesha is a designer with her own line called ASMI. She's as stylish as you'd expect a designer to be. Plus, her skin is flawless. Check out her tips for dressing, designing and getting that glow. And, on a personal note, thanks for making the connection to Skye Edwards for me. I was a huge Morcheeba fan.
Name: Ayesha Ibrahim
Claim to Fame: Fashion designer for the clothing line ASMI.
Wearing: ASMI
Sum up your style: Casual meets elegant meets a bit of funk.
Most treasured item in your closet: I would have to say my black blazer. First let me say I am a big fan of blazers, and I have them in a variety of colors. I believe they give any outfit  that finished, elegant look. But my black blazer saves my life each time. Many days when I'm rushing to an event if  I do not have the time to change or if I'm simply at a loss of what to wear, I throw on my black blazer over whatever I'm wearing, pair it would some bold heels and it does the trick each time.
Secret shopping go-to spot: I do not have one particular "go-to" spot, many days I look for new boutiques to find rare pieces, experiment with different designs and various designers. My secret or strategy is to be able to shop anywhere, find one-of-a-kind  pieces and mix them together in a cool, chic, but elegant manner.
Beauty tip: Drink plenty of water and have a fruit or vegetable salad per day, not only does it leave your skin spotless, it's healthy living.
When you were a kid you wanted to be: Growing up I think I aspired to someone or something different every year, and I always had big dreams. In fact, I still do. I remember maybe between the ages of 6 to 8 my idol was Whitney Houston, and I would dream of travelling around the world singing for millions. The next few years I believe I wanted to be an official linguist; then a nurse like my mom, soon after a veterinarian, and I think at some point even a governor. I look back on those days and smile, but now I've found my true love. I want to be the fashion designer that I am, continue to grow in my art and create magnificent designs.
Never leave home without your: Camera—you may never know when you see that snap shot of inspiration that would lead to an incredible design.
At the top of your fashion wish list is: I've never been one for creating fashion wish lists since my fabric, my sewing machine and my unique fashion finds keep me quite content, but I have recently been on the hunt for the perfect concealer and I am yet to find it so I would have to  say that is one of my necessities at the moment.
Currently addicted to: Youtube.
Last song you listened to: "Not Broken" by Skye Edwards.
For a direct link to this interview, please click HERE
August 14, 2012
Good Morning My lovely Readers!! We made it to yet another Friday.  Today I spotlight the talented Ayesha Ibrahim.
Ayesha is an electrifying, radiant Fashion designer from the island of Barbados; her designs are glamorous, enticing and romantic while maintaining a true Caribbean vibe.
With her mother being from Barbados and her father from Tanzania, Africa; Ayesha's background and culture is displayed in her designs. Growing up in Barbados she always had an eye for style and fashion. At the age of 16 Ayesha began modeling, undertaking various print and runway projects. Those experiences opened her eyes to the intense world of fashion and the variety of avenues this industry has to offer.
At the age of 20 Ayesha relocated to Miami, Florida to pursue her Bachelor of Business with a focus in International Business but throughout her studies she kept her eye on fashion and its trends and as a result began styling various clients located in the Caribbean and United States.  It was upon completion of her first degree that Ayesha encountered a revelation, realizing that she was not expressing herself fully as the artist she is.
Since then her latest projects include ASMI featured in a series of magazine shoots throughout South Florida and designing a gown for Filmmaker & Humanitarian Nominee, Alison Thompson to be worn at the  Australia 2012 Instyle Red Carpet Women of Style awards.
::Let's Chat::
ASW: What does Fashion mean to you?
AI: Fashion is an art; a form of expression. I have heard people make statements such as " I am not fashionable" or "I am not interested in fashion" but we are all involved in the art of fashion and our personal sense of style and dress showcases this art daily.
ASW: How would you define your city's fashion?
AI: I would define my city's fashion as "summer chic". In Miami we have the advantage of enjoying  sunshine all year round and as a result we dress to suit. Elegant, flowing summer dresses, shorts and loose light-weight blouses are favored pieces in Miami.
ASW: When did you realize you wanted to be  a fashion designer?
AI: I realized I wanted to be a fashion designer soon after I completed my BA in International Business.  I faced the decision of doing what was expected, which was continue in the field of business and obtain an M.B.A., or to go after my passion and thus follow my heart. At the time I was also a stylist but I still felt a void like I was not truly expressing myself and exploring the art of fashion as I wanted to. After much thought, I finally decided to pursue my Master of Fine Arts with a focus in Fashion Design and the result of such a pursuit led to my clothing line ASMI.
 ASW: What was the first article of clothing you ever designed?
AI: The first piece I ever designed was my cocktail dress for a New Years Eve party  a few years back. I remember feeling a bit confused with regards to the fabric types needed and the cutting of the pattern but I enjoyed every step and two weeks later I was quite pleased with the result and also very proud of myself.
 ASW: How long does it usually take you to construct a piece?
AI: It usually takes me a couple days to construct a piece however, this all depends on the complexity of the design, in some cases a gown can take about 10 days including fittings and possible alterations but there have also been those occasions where I hear last minute of an event occurring maybe the next day and I really want to go wearing my own design so I spend all night with a cup of coffee and create a fabulous ASMI design.
ASW: What are some of your accomplishments as a designer?
AI: As a new designer, it is hard for me to note my accomplishments because I am so focused on improvement. I am constantly brainstorming how I can improve myself, my art and of course ASMI. But I can say that I am still happy and I am grateful;  this year I've had the opportunity to meet and collaborate with noted stylists and photographers in Miami with them featuring ASMI in their shoots . Also, I was able to meet  humanitarian and film maker Alison Thompson, and design her dress for the Instyle Red Carpet awards held in Australia and ASMI is now available in stores so even though this is quite a journey and there is always room for improvement  there are some great moments throughout.
ASW: Who are some of your favorite designers?
AI: This is a tough question for me because I truly have immense appreciation for all designers because each designer adds their own unique touch to the design. I am a big fan of Diane von Furstenberg her signature print and her  wrap dress is simply iconic, I love the designs of Michael Kors they are elegant but yet practical and of course there are the legendary designers such as Azzedine Alaia and Valentino who I look up to.
ASW: Where can readers buy your clothes?
AI: My designs are available for viewing on my website www.asmidesigns.com and I can easily be reached through my site, also ASMI is available at The Loft located at 3190a Commodore Plaza, Coconut Grove FL 33133 and at Haus Fashion Lab located at 2527 NW 2nd Ave, Miami FL 33127.
ASW: What are some of your favorite clothing stores/catalogs/websites?
AI: I cannot say I have a favorite store because I  usually try to visit most malls quite often and look for other new boutiques every week, I like to stay informed with regards to fashion trends, looks and new designers especially in my area. A couple of my go-to websites are style.com and wwd.com (womensweardaily),  these sites have all the up-to-date information for designers with regards to fabric trends, color trends and seasonal looks.
ASW: Where do you buy your fabrics and other sewing materials?
AI: A lot of my sewing materials like my scissors , various rulers and tapes I order from the internet or buy from a local sewing supply store but for my fabric I usually go to downtown Miami for my prints and I head to  North Miami for the unique fabric types that I love to experiment with but it must be noted that with fabric there is no limit, it is a joy for me to find a new fabric store or to travel out of state and find fabric. The more distinct and unique the fabric the better the design.
ASW: What advice do you have for aspiring fashion designers?
 AI: My advice to aspiring fashion designers is to follow your heart no matter what; pursue your passion. This is what I tell myself daily; words cannot express the joy and sense of achievement I get from my designs and even on my toughest days and sleepless nights I cannot imagine doing anything else.
ASW: What do you like best about designing clothes?
AI: What I love about designing is that I get to explore my art and talent daily and the result is always a unique and special ASMI design.
ASW: How would you define your personal style?
AI:  I would define my personal style as casual meets elegance meets a dose of funk.
For a direct link to this interview, please click HERE 
August 14, 2012
What inspires you to blog?
I blog because I want my readers to know the story behind my style and my ASMI creations. Each ASMI piece has a story behind it and I want to share that. In some posts I share how the piece was constructed or where I wore it and in other posts I just want my readers to know what happened in my day that inspired such a dress or even what was it that inspired me to choose a particular color. I enjoy telling these stories, to be honest it took me a while to start blogging but now that I've started I can't stop.
How would you define your personal style?
Hmmm, my style is very versatile; I would say my personal style is vibrant meets funky meets electric meets true elegance.
Do you find that you follow fashion trends, or do you play by your own rules?
I have always made my own rules especially where fashion is concerned; I rather stand out than blend in.
Items to get, what are you searching for right now?
I am always searching for more shoes but what I am really searching for right now is of course…new fabric choices for a new collection
A really good concealer to cover up my eyes from my late nights of sewing
Gold lipstick, I want to give it a try.
Are there any colors you tend to shy away from, and if so why?
At this point I am shying away from black simply because when I look in my closet I see too much of it so I am trying to replace it with more color.
When you hear the term "Black Girl Killing It" what comes to mind?
The term "Black Girl Killing It" makes me proud!! I think of funk, expression, culture and most of all I think of a movement!
As a child were you always into clothes or did you grow into your own fashion sense?
From the time I could remember I was always into clothes, I remember modeling my mother's jewelry and exploring her wardrobe. Also from the age of 7 I had a dressmaker who my mother took me  to every month so I could describe to her the dress I wanted her to make for my next special occasion; I always loved creating my own style.
Do you participate in your local fashion scene?
I definitely try to once my schedule allows it because it is in my best interest as a fashion designer to participate and be aware of my local fashion scene. Also, I really enjoy networking and it brings me joy when I meet  others and they want to know more about ASMI.
How does your day to day life factor into your wardrobe choices?
My day to day life is very hectic and it leaves me most days not looking like the fashion lover that I am. I am usually racing around in my car running errands and collecting fabric or, at my sewing table in my glasses and in my most comfortable leggings and vest creating my patterns (not very fashionable). But when I have a event to attend I always try to make an outfit for myself that is different, will stand out amongst the rest and will make me feel truly beautiful; the outfit I make goes according to my mood at the time, it may be colorful, made out of lace and elegantly fitted , or just funky but whatever  it is there is always that unique thread that makes it an ASMI piece.
What is your greatest fashion pet peeve?
I must say this question made me think a lot because I have many fashion pet peeves but I would have to say matching, everything does not have to match. I always encourage color blocking or pairing a bright colored or printed piece with a dark solid. It does not only brighten your outfit but you would be amazed at how much it will also brighten your day.
Have you ever tried your hand at design or sewing?
Oh of course, from the age of 8 I was hand sewing, I remember making handkerchiefs  with embroidered prints on them, this continued till I was in my teens, from that age I would try to make my own clothes; now as a fashion designer sewing is literally my life, I have no other choice but to sew everyday but at least I can say that I truly enjoy it.
Are there any designers that you like to wear or whose clothing stands out with you?
I have an appreciation for all designers and their various styles and there are some that stand out with me for different reasons, for example, I love the vibrant signature prints of Diane Von Furstenberg, the comfort and practicality of Michael Kors and the structured yet sexy style of Emporio Armani.
Who are your style icons?
I am inspired by so many but if I had to name a few off the top of my head I would say Rihanna, Solange Knowles, Magazine Editor Shala Monroque, Folake of Stylepantry.com and of course my mother, she is the most iconic woman I know in every aspect.
Your five must-haves as a girl:
The little black dress
Fashionable handbag of a practical size
Tailored jacket
A comfortable, let me say again, comfortable pair of heels
Bright lipstick, which may be red or pink or even gold, be bold, do not be afraid of color
For a direct link to this interview, please click HERE
July 1, 2012
For those of you who missed ASMI's interview on Good Morning Barbados, well here it is just for your viewing pleasure!!
March 18, 2012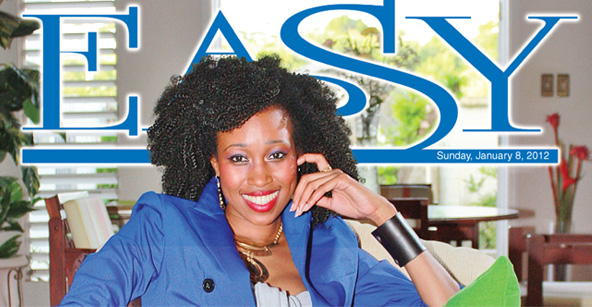 Barbadian designer Ayesha Ibrahim talks with EASY magazine about her love of fashion, carving out a life for herself in Miami, and why she wantswomen to be inspired by the beauty and vibrancy of her creations.